During the campaign I honestly cringed anytime I heard one of my liberal woman friends inaccurately claim how the Democrat Party and Obama were for women's rights over say the GOP ticket that nominated a woman as their VP – Sarah Palin. I know, I know – It does sound as stupid as it does writing it – ummm, trust.
When I would debate with friends on Facebook I would LOVE to bring up this fact – McCain overwhelmingly paid higher and promoted more women in his campaign than Obama. Yet Obama was praised as this fighter for women's rights. I didn't get how this was logical with those facts, but then that's typical of the liberal thought process. Throw out facts and logic, and BOOM! there's your argument.
(via CNS News now, but I first read this on The Boston Globe which for some "reason" is no longer available)…
The average pay for the 33 men on Obama's staff (who earned more than $23,000, the lowest annual salary paid for non-intern employees) was $59,207. The average pay for the 31 women on Obama's staff who earned more than $23,000 per year was $48,729.91. (The average pay for all 36 male employees on Obama's staff was $55,962; and the average pay for all 31 female employees was $48,729. The report indicated that Obama had only one paid intern during the period, who was a male.)

 
McCain, an Arizona senator, employed a total of 69 people during the reporting period ending in the fall of 2007, but 23 of them were interns. Of his non-intern employees, 30 were women and 16 were men. After excluding interns, the average pay for the 30 women on McCain's staff was $59,104.51. The 16 non-intern males in McCain's office, by comparison, were paid an average of $56,628.83.
Now, couple this with the fact that black women Democrats who supported Hillary Clinton were on several occasions verbally abused by Obama mentors like Emil Jones (DEMOCRAT, State "Corrupt as F*CK" Senator in Illinois). (via NewsBusters)
"Last night, I was called an 'Uncle Tom' by Emil Jones in the lobby of the hotel, right in front of [Ald.] Freddrenna Lyle and [Ald.] Leslie Hairston and [Ald.] Latasha Thomas," said Cobb, a member of Clinton's Illinois Steering Committee. "I walked over to him and asked him, 'What did you just call me?' "
Or how about how those Obama supporters who were found to be displaying their support for empowering women at Hillary's speeches: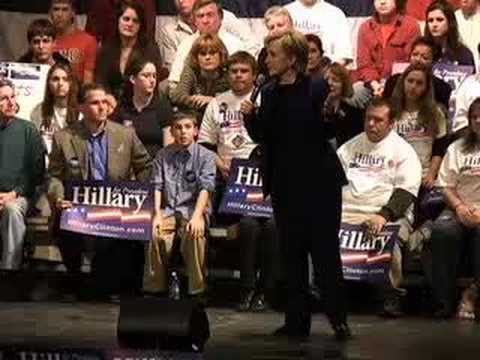 Fast forward a few months after the big day and surprise, surprise. Looks like a leopard doesn't change its spots after all. Months after the election a certain President didn't come through on his promises for representing women. To the left, Jon Favreau, Obama's speechwriter, does his best to epitomize this administration's lead in supporting objectifying women. And it looks like his main man is keeping that glass ceiling tight after somebody went and let Sarah Palin get through it.
Can somebody say – OOOOPS! (via CNN)
It [Obama's cabinet] might be diverse, but not everyone is happy. Some women's groups are disappointed. Among Obama's strongest backers during the election, they now say they don't have enough seats at the table.
In fact, look at the contradiction of my favorite ill-informed liberal, Kim Gandy, president of NOW. Here's her on Palin during the election:
Gov. Palin may be the second woman vice-presidential candidate on a major party ticket, but she is not the right woman. Sadly, she is a woman who opposes women's rights, just like John McCain.
All because Palin is pro-life. Newsflash Gandy: Abortion rights are not the rights of women but the right to life of children. And last time I checked women's rights are not solely defined by the pro-choice/pro-life debate. But you're doing greeeeeeeat keeping up that liberal myth to the public.
Now here's her on Obama after she blindly voted for him in a kool-aid stupor on Nov. 4th:
"When you are looking at a Cabinet and you have such a small number of women in the room when the big decisions are being made, there need to be a lot more women's voices in this administration."
Ummm…can we break that down again?
McCain – hires more women than men, promotes more women to more top positions, pays women more than men, encourages our efforts in Iraq and Afghanistan where prior to our occupancy those oppressive rulers were celebrating women's rights with rape rooms and denying them the right to vote, OH! and nominates a woman as his VP choice.
Obama – no track record of the previously stated under McCain, BUT he's pro expanding abortion until the baby can talk!
Yeah, good one, Kim. Way to have stuck up for women on that one! (rolling eyes)  VoterFAIL!
Can you feel the feminist love yet???  OINK! ONIK!