For those of you who may not have heard Sean Hannity announced that he would be willing to waterboard himself as a challenge to Keith (MurrowWannabe) Olbermann and that for every second he's under one of them would pay so much money. MurrowWannabe takes Hannity up on his challenge in the name of donating money to charity.  No word from Hannity. Cue fame-hungry pundit celebrity!
AnyParisHiltonWannabe, Mancow Muller decides to waterboard himself to prove it's not torture while he's on the air for his conservative/libertarian radio talk show. (via Jim Blazsik)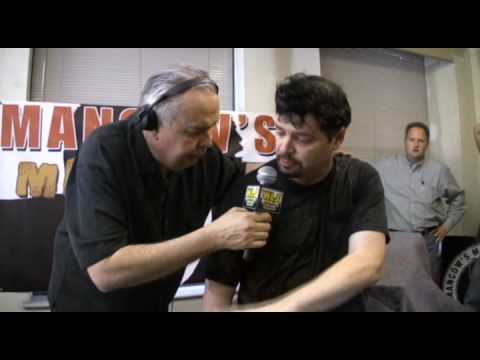 As you see in the video, he then claims immediately afterward that he was tortured.  But really he doesn't prove anything and in his haste for ratings, notary or just not taking a breath to process he does a disservice to really understanding the concept and effectiveness of EITs like waterboarding. Way to go, Mancow! Sacrificing transparency and understanding through application in return for a ratings jump all while masking your attempt in "honesty to your viewers." Even though I'm not liberal anymore, I still can get irritated with conservatives/libertarians when they aren't using common sense.
Here's the deal and I think Jim Blazsik does a WAY better job of explaining this than I. Liberals argue that the US has lost it barring on the morality compass and our reputation with the world by allowing these acts. They argue as if the Bush Administration had a "Come GIT UR Waterboardin' ON!" hoedown at the Pentagon. Pahleaze! First, let's do an accurate background check on what the effects of waterboarding is before we cry wolf when it comes to defining torture. Waterboarding is, yes, physically discomforting but does not result in permanent physical damage. In fact, doctors were present to ensure this during the time it was conducted soon after 9/11 to ONLY 3 individuals terrorists.
What people don't realize is that the definition of torture is SUBJECTIVE, ie based on your individual perspective. So what I constitute as torture will not be what the person sitting next to me thinks it is. Waterboarding I believe may result in some psychological pain but as for it being physical brutality that would constitute criminal abuse charges – I don't think it is that. If it did then I know about 30 guys from my high school cross country team who should be brought up on charges for doing the same to teenage boys who were guilty of nothing more than being awkward teenagers, not terrorists guilty of mass murder who knew information on future attacks.
Mancow was freaked out and shaken up by the process, but enhanced interrogation isn't intended to be a walk in the park. He isn't a hardened Islamic terrorist dedicated to killing innocent Jews and Christians. Mancow walks away with all his fingers and toes, and his face will remain the same. He'll have some bad memories, but I still have some bad memories of Michael Moore and Lanny Davis. We'll get over it.
Let us remember that only three terrorists went through this process. This happened right after 9/11, when we found ourselves vulnerable after that fateful day. Why only three? They were determined to have pertinent information of future terrorist attacks.
Does this mean that something unpleasant defines  it as torture? Well, not necessarily. I don't think getting interrogated at the local Chicago Precinct is a real treat either but again its not torture. Have you seen how our cops in Chicago behave? Hear about the story of Chicago police beating up a guy in a wheelchair? Yet in those cases, you didn't hear liberals chiming up about how those cases were torture or that Chicago has lost its morality! In fact, you didn't hear for the prosecution of the entire police force OR the city's administration (although, I'm a fan of throwing Mayor McCheese in the slammer any day of the week!).
But alas, fame trumps principles and Mancow takes the bait hook, line and sinker to go on Olbermann's show. Which is funny because I think it's one of the few times I've seen Olbermann actually interview a conservative/libertarian on-air, and SURPRISE its only when said opposing pundit agrees with him. (via HotAir) What a chicken shit.
Of course in the interview they don't get to the underlying principle of the matter, which should be: Having experienced waterboarding do you still approve of its use on Islamic terrorists who are planning to kill hundreds of innocent Americans in order to get information to stop their impending attack?
Instead Olbermann and Mancow play a game of footsie like they're two love-crushin' middle schoolers. Get a room, fellas, if you're going to just waste my time.  I'm looking for actual information, not nonsense clouded by irrelevant tangents like "Was it torture?" "How did you feel?" Gee, Mancow didn't like the waterboarding. And the Captain Obvious Award of the Day goes too……
On a side note, I saw a lot of commenters on Blazsik's blog trying to demonize his thoughts as being "unChristian" and making them "doubt religion even more if this is their believes on waterboarding and torture."  Don't you just love how liberals throw in tangents like religion and Christianity, as if they have a real clue about either in the first place. Nobody was talking about religion, just about the parameters of what defines torture and within that definition when or if is torture justified. But yet, liberals always have to go to the anti-Christianity argument as they completely ignore the fact that Islamic extremism is what is making these people terrorists in the first place.
But to this I cue Jim Treacher's comment – it's so perfect and I'd love to see a liberal squirm getting it thrown in their face while perched up on their faux morality pedastal:
I'm sure that everyone who thinks Obama did the right thing by authorizing the killing of those Somali pirates is lining up to be shot in the head. If it's such an effective technique for saving American lives, why don't YOU try it?

UPDATE: Looks like I'm not the only questioning Mancow's earnest when it came to his waterboarding "truth seeking" stunt. Hmmmm…