The last few days I've come across clips associated with the  documentary called 'Not Evil Just Wrong' which takes a bold grassroots approach to tackling the mega-million-money-machine of the Great Global Warming Hoax. Ann McElhinney makes some powerful arguments on how this entire Global Warming movement has been a hoax using mass media hysteria to make a few people rich beyond their wildest dreams while people in the poorest of third-world areas are lectured and depraved of basic life-sustaining necessities. And she makes an appropriate crack at the limo liberals like Michelle "First Victim" Obama, by stating she needs to get over herself if she honestly thinks SHE is a victim in this world.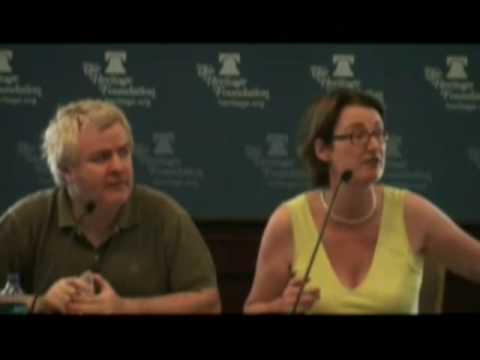 The filmmakers of this documentary are awesome. I've been laughing a straight five minutes at this joke:
"How do you know you're rich? Your children come home to tell you they've become environmentalists."
So true, liberals.  Get off the disconnected train and get back into the real-world. Humans are a part of this environment and CO2, the very thing we breath out of our mouths, is no more destroying the Earfffffffff then rain drops. After the Cap n' Tax bill, what will be next 'population control' bills? I sense a massive grassroots uprising if the Beltway doesn't get its act together soon and moves away from appeasing 1% of fringe, eco-crazed lunatics on the left.
Also, here's another clip where the other filmmaker, Phelim McAleer, gets bounced from the press line (even though he has proper credentials and followed the rules) for asking celebrities if they believe that flying attributes so much to global warming, then how did they get to the premiere. Hilarity insues.
Gillian Anderson, no joke, responds with an honest look on her face (because she ain't that great of an actress):
"Well, it [aviation] absolutely is, but sometimes some people have to fly in order to make a stand."
Seriously???? So, you're desire to get on a private, chartered Gulf-Stream jet to attend a Hollywood premiere is justified. But ordinary Americans who fly coach for business/vacation, or people who drive SUVs and Minivans, or people who need to cut down forests for firewood for HEAT to stay alive are some how not justified in their energy choices and need to be lectured by the likes of somebody who's career is nothing more of memorizing lines for a living? A delusional nitwit says what?